Singers Thai Thuy Linh, Luu Huong Giang and Tuan Anh together with musician Ho Hoai Anh and the folk musicians of the Central Theater of Classic Drama will travel to China for the first Asia-Pacific Youth Arts Festival in Shenzhen from September 22 to 27.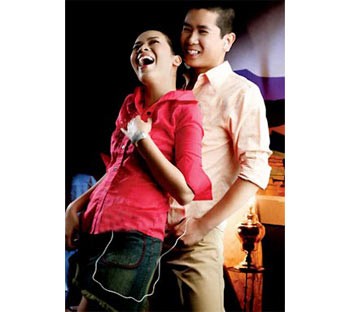 Singer Luu Huong Giang (L) and musician Ho Hoai Anh.
They will bring to the event the single-stringed dan bau and a repertoire of folk songs and instrumentals like Trong com (small cylindrical drum), Ly ngua o (Song about a black horse) and contemporary song Mua bay thap co (rain falls on the ancient tower).
The festival hosted by Central China TV and the Asia-Pacific Broadcasting Union aims to promote "harmonious communication" in the region.
It will take place at the Interlaken Theater and close with an open-air ceremony in the Window of the World Park.
On stage will be many young artists around Asia who reflect their country's cultural specialties.
The judging panel of accomplished musicians and musicologists will include the Vietnamese veteran Nguyen Cuong.