Male model Ngoc Tinh won the "Best Evening Suit" title in the "International Designer's" show at the 'Best Model of the World 2011' took place in Plovdiv in Bulgaria from July 23 to 30.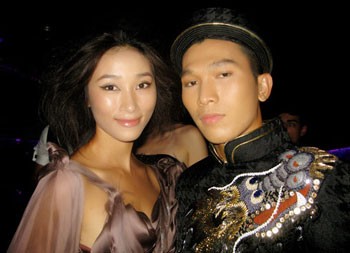 Huyen Trang (L) and Ngoc Tinh
Vietnamese traditional costume for men, ao dai and khan dong (ready-to-wear turban) embroidered a rising dragon showing the country's prosperity and national pride is designed by Cong Tri.
In addition, model Huyen Trang won the Best Asia title.
Khieu Thi Huyen Trang, the winner of Vietnam's Next Top Model 2010 contest, 21 year old, is a beautiful 1.78m tall model from the northern province of Bac Giang. She gave an outstanding performance on the final night of Vietnam's Next Top Model 2010 contest. She is currently modeling for many domestic newspapers and some local and international clothing brands.
Male model Ngoc Tinh, winner of Vietnam Super Model Competition 2010, 23, is student of the HCM Academy of Theatre and Cinema. He also won the first prize at a martial arts competition in 2011.
The Best Model of the World Contest has attracted more than 1,000 professional models from 136 countries around the world.