Vietnamese French musician Nguyen Le, who has become quite popular in the music world has returned home for a performance titled "Hometown" at The Rooftop, on the 19th floor of Pacific Building in Hanoi on July 13.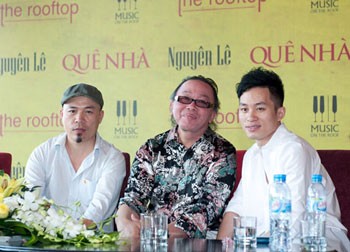 Musician Huy Tuan (L), musician Nguyen Le(C) and singer Tung Duong (R).(Photo:Vnexpress.net)
Musician Huy Tuan, singer Tung Duong, T'rung player Van Anh, violinist Khac Quan, saxophonist Hong Kien, drummer Quoc Binh, pianist Tuan Nam and bass guitarist Vu Ha will join the show.
This is the second visit of the musician to his home country. He made his first visit seven years ago.
The jazz musician was born in 1959 in France. His father is historian Le Thanh Khoi. Le can play various instruments and different kinds of music such as rock and funk.
He established the Ultramarine band whose album "Dé" was selected as the best world music CD of 1989 by the French Liberation newspaper.
Nguyen Le was invited to take part in the French National Jazz Orchestra under the baton of conductor and music director Antoine Hervé in September 1987.
The musician has worked together with many world famous artists and is one of the big names who have outstanding contributions to French contemporary music.

His 1996 album Tales from Viêt-Nam blending jazz and traditional Vietnamese music won numerous international awards such as Diapason d'Or, Choc du Monde de la Musique, Choc de I'année Jazzman and Jazzthing.