Ao Lua Ha Dong (The White Silk Dress), a Phuoc Sang Film production, won the Kodak Vision Award at the International Fukuoka Film Festival (September 14th to the 24th) in Japan.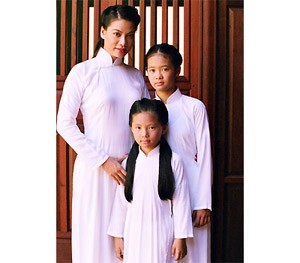 Star movie Truong Ngoc Anh (L) and little actresses in the film Ao lua Ha Dong.
The award, elected by audiences, was announced at the award ceremony Wednesday evening. Leading actress Truong Ngoc Anh (of The White Silk Dress), received the award on behalf of the film crew. 

The White Silk Dress beat out other top films, including  Indonesia's "Three days to Forever", Hong Kong-China's "My Mother is a Belly Dancer", China's I want to Dance, Japan's Fuckin' Runaway and More, to win the honorary title, said actor and producer Phuoc Sang.

This is not the first recognition the film has received — it also won gold awards in the best feature film category at Viet Nam's 2006 Canh Dieu Vang (Golden Kite) Award of the Vietnam Cinema Association, and the Audience Award at the 11th Pusan International Film Festival in Korea last year.

Ao Lua Ha Dong, was co-produced by the Phuoc Sang Studio, Viet Studio, and Anh Viet Co., and featured Truong Ngoc Anh, Quoc Khanh, Kim Thu, Ha Kieu Anh, and Tong Bach Thuy in its lead roles.  The film cost approximately US$1 million to produce. 

The film follows several female generations of one Vietnamese family and chronicles their relationships with the ao dai (a traditional Vietnamese silk dress). The movie, including the women's attempts keep one precious ao dai in their possession, presents the intimate beauty of Vietnamese family life and the significance of the ao dai to audiences.

Introduced in 1991, the International Fukuoka Film Festival is an annual festival designed to promote the film industry in Asia.  The favorite films each year are stored in the film library of the Fukuoka City. Several Vietnamese films have received this mark of distinction, including Bao gio cho den thang muoi (When Does the Tenth Lunar Month Come?) by director Dang Nhat Minh, Dau an cua quy (Mark of the Devil) by Viet Linh, Hai Nguyet (the name of a leading female role) by My Ha, and others.

This year's festival saw nearly 25 international entries; additional awards will be announced September 24.