The film Canh dong bat tan (The endless field), a production of BHD company, will be screened at the 15th Pusan International Film Festival to take place on October 7-15.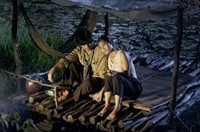 A scene in the film Canh dong bat tan
The film is selected for the post production support during the festival. With Post-Production Fund, the director will be invited to Korea to work on sound and DI with Korean post-production houses. It will help the director complete his or her film in 35mm. Top-notch technicians from Korean companies will help the project along to a higher level of quality.
Furthermore, this fund is expected to be the basis for an Asian network of filmmaking technology.

The movie is adapted from a short story of the same name by ASEAN Literature Award winner Nguyen Ngoc Tu. It is the unique representative of Vietnam to take part in the Pusan International Film Festival 2010.
Director of the picture Nguyen Phan Quang Binh won the Pusan Promotion Plan title in 2006.
The film will be presented to Vietnamese audience on October 22.
Started in 1996, the annual Pusan International Film Festival is one of the most significant film festivals in Asia.

The event aims to introduce new films and first-time directors, develop and promote young talent, especially those from Asian countries.