The Culture-Tourism Village of Vietnamese ethnic groups will be opened on September 19, announced the Ministry of Culture, Sport and Tourism in Hanoi on September 9.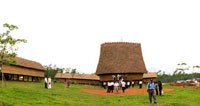 A Rong House - symbol of Highlands ethnic minority groups in Vietnamese ethnic culture-tourism village
The village covering a total area of over 1,500 ha of mountains, lakes, hills in the southern part of Dong Mo-Ngai Son Lake is located about 35-40km from the center of Ha Noi.

Typical architectural works of 54 ethnic groups, like houses, communal houses, pagodas, together with many production tools, fine arts and craft, rice cultivation techniques will be introduced to the public.

The village also includes a recreational center and a restaurant-hotel complex being building to serve visitors.
34 of 54 ethnic villages and two functional quarters of cultural, sports and amusement activities have been put into operation. The village will be totally complete in 2015.
The village featuring characteristics of distinctive cultures of each of Vietnam's 54 ethnic groups is expected to become an attractive destination for domestic and foreign tourists.