Along with other cultural and art forms of Viet Nam to welcome the world's economic leaders who will be in Viet Nam for the APEC summit and also to introduce the country's long-standing and unique culture, Hue embroidery paintings will be displayed at the "APEC Image and Viet Nam's Cultural Heritage" exhibition in Ha Noi on November 14-23.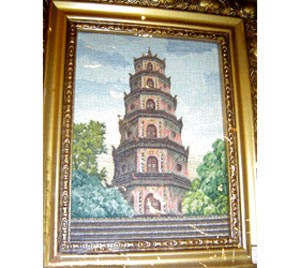 Hand embroidery is a traditional art of Viet Nam(Photo: Y.Ch.)
Artist Le Van Kinh, owner of Duc Thanh embroidery shop in Hue, will introduce Hue's famous art of embroidery with his ten large-size embroidery paintings of beautiful and ancient landscapes of Viet Nam, of which the paintings of Ky Dai and Ngo Mon (Noon) Gate have the largest size of 1.2 meters x 0.8 meter.

Artist Kinh has won the semi-final round of the "Viet Nam's Handicraft Contest -2006" with his three embroidery works.
The exhibition will display more than 100 large-sized photos of the life, culture, land, people, and beautiful landscapes in 20 APEC member economies.
The exhibition will also boost Vietnamese tourism by displaying thousands of items, photos, materials, and products characterizing the country.
The main topics featured at the exhibition will include APEC images, Vietnamese antiques, pottery, fashion, tea culture, Ha Noi quintessence, characteristics of ancient capital Hue culture, Sai Gon beauties, and Vietnamese tourism – a hidden charm.