A 25-member troupe of the Hue Royal Traditional Arts Theater led by La Thi Cam Van, the theater's director, has arrived in France for the 35th International Folk Music Festival, held in Montoire-Sur-Le Loir City from August 8-15. The troupe will also give performances in Belgium and Switzerland.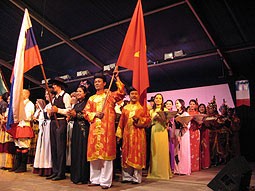 The Vietnamese troupe in the opening ceremony.
Vietnamese artists presented to audiences Nha Nhac (Vietnamese court music), royal dances and folk dances in the festival's opening ceremony.
The event marked the first time France enjoyed a performance of Nha Nhac, recognized by UNESCO as a "Masterpiece of the Oral and Intangible Heritage of Humanity" in 2003.
Meaning "elegant music," Nha Nhac refers to court music performed at annual ceremonies, including anniversaries and religious holidays, as well as special events such as coronations, funerals or official receptions.
Although its roots can be traced to the 13th Century, Nha Nhac reached maturity in the royal place of Hue under the Nguyen Dynasty (1802-1945).
The artists received high praise from more than 2,000 European audience members, especially from Mr. Jean Francois Proux, chairman of the International Council of Organizations for Folklore Festivals and Folk Art (CIOFF) – the organizer of the festival.

CIOFF is an international, non-government organization.Founded in 1970, CIOFF has presented in nearly 90 countries across five continents. It has held almost 250 international festivals and promotes, each year, exchanges of nearly 50,000 amateur artists.
CIOFF aims to defend cultural diversity and to promote intercultural dialogue to serve the cause of peace and non-violence.
This year the event attracted more than 350 artists from France and 11 other countries around the world.