The Vietnam Circus Federation (VCF)'s "Superman Swing" show has won a gold medal at the third International Circus Festival in Albacete, Spain.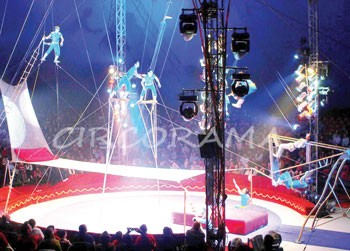 The show titled "Superman Swing" by the Vietnam Circus Federation wins a gold medal at the Albacete International Circus Festival in Spain.
The performance also received the Audience Favorite award, voted on by 10,000 spectators.
The troupe spent two freezing nights last month practicing in -100 C weather in Albacete, said Nguyen Tai Thao, deputy head of the VCF.
The cold temperatures caused female acrobat Duong Thi Quyen to fall badly during a rehearsal for Superman Swing, but she showed great tenacity and returned soon after to perform with the troupe at the competition.
It was the first time young artists from the VCF took part in the international festival, which ran February 14-25, but they rose to the occasion and triumphed over seasoned veterans from China, Russia and France.
The Vietnamese troupe has also received invitations to sign contracts and perform at a host of other arts festivals.
The VCF is now taking time to prepare for another international circus festival in the country to mark the 1,000th Thang Long-Hanoi festival in October, said VCF Director Vu Ngoan Hop.