A book entitled "Vision of War and Peace" featuring paintings of the wartime and peacetime by painter Huynh Phuong Dong was released this month in the U.S and Viet Nam.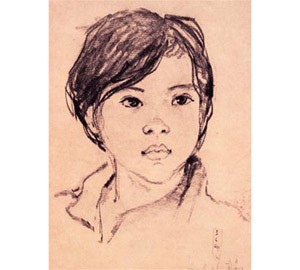 A painting entitled Be Muoi Mot (Muoi Mot little girl) by Huynh Phuong Dong.
Published in Viet Nam by the Sai Gon Culture Publishing Company, 2,000 copies of the 175-page volume, measuring 33.6 x 23.4 cm, were printed. The book includes 109 select paintings from the collection of over 17,000 sketches, silk, gouache, and oil paintings, as well as wood, plaster, and bronze sculptures of the former soldier and artist.

Most of his works feature forests, the faces of soldiers and guerrillas, battles, and the hardships of a soldier's life during the wars in Viet Nam between 1945 and 1975.

"It is the first book sponsored by American NGO Indochina Arts Partnership to publish in English in the US," said Mr. David Thomas, director of the Indochina Arts Partnership.

Mr. Dong's paintings proclaim him an artist who devoted his whole life to capturing these historic events in order to preserve them for all time, according to Johanna Branson, an American researcher and PhD in fine art history.

Born in 1925 in the Mekong Delta's province of Soc Trang, the artist joined the national salvation youth in 1945. He left for the north in 1954 and joined Ha Noi's Fine Arts College. After graduating from the sculpture department in 1963, he returned the south to join in the anti-American resistance war.