Hanoi, Hue and Ho Chi Minh City are about to hold various events to celebrate "International Francophone Day 2010" which is scheduled to run from mid March to early April this year.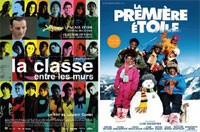 Festival of Francophone films will be organised in Hanoi from March 12th-27th to mark the International French Speaking Day on March 20th
The news was confirmed through an announcement released by a group of embassies, delegations, and Francophone-related organisations in Hanoi and Vietnam 's Ministry of Foreign Affairs on March 10.
According to Romanian Ambassador Dumitru Olaru, who chairs the group of Francophone embassies and organisations, the event this year coincides with the 40th founding anniversary of the International Organisation of the Francophone (OIF) and the 1,000th birthday celebration of the Thang Long-Hanoi capital.
Therefore, he said, activities to be held for the event will be designed to highlight the diversity of French speaking cultures, which can be best conveyed by cinema.
During a film festival to be held in the three cities, 13 prize-winning films from seven countries will be screened.
There will be a concert of two Vietnamese musical forms recognised by UNESCO as part of the world's intangible cultural heritage – the "tru" and "Quan ho" (Bac Ninh love duets) singing – during the main anniversary of the OIF at Vietnam 's very first university, Van Mieu, on March 20.
The OIF is an international organisation of countries and regions for whom French is their mother tongue or customary language, where there is a significant proportion of French-speaking people or where there is a notable affiliation with the French language or culture.