Vietnam feels like a home away from home, says German photojournalist Jochen Voigt. Arriving in central Hoi An Town for the first time in 1967, Voigt observed a much different landscape, however.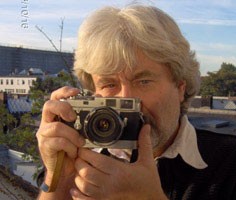 German photographer Jochen Voigt
He had made his inaugural trip during the Vietnam War, accompanied by a delegation of German doctors on a humanitarian mission.
 
Over the next two years, Voigt would capture more than 3,600 photos of the land and people, providing him with a deep awareness of the atrocities of war and an unforgettable impression of human suffering and triumph.
 
The black and white photos depict the countryside, streets, and activities of Vietnamese people. Many are portraits of regular citizens going about their daily lives.
 
Voigt also reported on what he saw, including the suffering of children who were victims of napalm attacks in the central province of Quang Ngai. His articles were published in the German Spiegel magazine, and underscored the violence of the situation. Many German readers were outraged after reading Voigt's account and voiced their opposition to the war.
 
The photographer, called Menschenfreund (humanitarian) by his friends, worked for various newspapers from 1970-1993. He went on to become a documentary film director and has worked around the globe capturing stories of human life and courage.

In 2003, he embarked on a solo three-month journey traveling more than 2,000 km along the Ho Chi Minh trail on a motorcycle. It was his first trip back to Vietnam since the war.

The photographer says he once again felt the kindness of the Vietnamese people and was overcome by their hospitality and optimism. Despite many hardships, their gentle nature still shined through, says Voigt.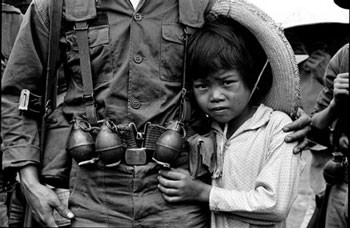 A photo by Jochen Voigt
A few years later, the photographer released a new book titled "Time for Vietnam" in 2006, documenting his latest trip through the country.

Now, a photo exhibition titled "Bridge of time – Memories for future" featuring 127 black-and-white, and color photos of Vietnam and its people, is being held at the HCMC Exhibition House, 92 Le Thanh Ton, District 1. The photos are from Voigt's 1967-1968 and 2003-2008 collection.

He says he hopes the display will give young people a chance to lean about the past in order to respect the future. The exhibition is not just about the war, Voigt adds, but is instead a showcase of the people and their journey to peace.

In honor of Hoi An Town, the place where Voigt was first introduced to Vietnam, the photographer says he will soon hold another exhibition at the local museum.