Making her first debut at an international pageant, Vietnamese cai luong actress Que Tran secured a spot in the top three at the Miss ASEAN TV Charming 2010 contest on March 22 in Ho Chi Minh City.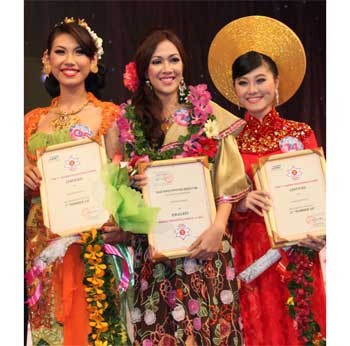 L-R: Indonesia's Data Sili Pertiwi, the Philippines' Jonavi Raisa B. Quiray, and Vietnam's Que Tran pose on March 22 at HTV Station in HCMC following the Miss ASEAN TV Charming 2010 contest (Photo: MTO)
First place went to Miss Philippines Beauty Jonavi Raisa B. Quiray while Miss Bali, Data Sili Pertiwi from Indonesia, finished second.  
Ms. Tran won third place and wowed audiences with an impressive red Ao dai (Vietnamese traditional costume) and shimmering yellow khan dong (Vietnamese traditional headdress).  
The young actress also won "Most favorite contestant," voted by TV viewers.  
Speaking to SGGP (English Edition) about her experiences at the pageant, Ms. Tran said: "It was unforgettable. When deciding to join the contest, I never thought that I could win a prize, so I therefore felt less pressure. To me, the competition was simply a chance to meet and learn from other contestants about their countries and cultures, and vice versa.  
"This is the first time that I participated in an international MC contest. I had almost no experience, but thanks to the support of organizers and other contestants, after a week I felt [very prepared]."  
Asked whether she regretted not coming in first, Ms. Tran said, "Third prize already means so much to me. And I feel very satisfied with it. It was [basically] an unexpected win for me. I think the Philippines model [Ms. Jonavi] was absolutely deserving of first place thanks to her outstanding performance throughout the contest. Her impressive height also helped her win." 
Ms. Jonavi told SGGP: "I'm so happy and thankful to the judges since they chose me for the [top prize]. When my name was announced, I was shocked and had to ask myself if it was really true. I think all the girls in the contest were wonderful. Their beauty, their kindness and good personalities, all of those make them glorious.  
"This trip means a lot to me since I can learn more about other cultures and have more time to visit your city and go sightseeing," Ms. Jonavi added. "Mostly, I was attracted to Reunification Palace in District 1." 
The Philippine beauty also won the "Most beautiful contestant in Ao dai" prize. 
Other awards were handed out for "Best national costume," (won by Heng Srey Pov from Cambodia); "Best performance," (won by Thipphavong Khantisaly from Laos); "Most beautiful face," (won by May Hnin Nu from Myanmar); and "Most talented," (won by Quynh Mai from Vietnam.)  
The Miss ASEAN TV Charming 2010 contest was hosted by HCMC Television from March 17-22 with 16 MCs from nine countries including Thailand, Laos, Myanmar, Malaysia, Indonesia, the Philippines, Brunei, Cambodia, Singapore and Vietnam.  
Fellow cai luong actress and broadcaster Quynh Mai from Hanoi Television represented Vietnam in the contest.
Related article:

HCMC to host Miss ASEAN TV Charming 2010 contest