"The Vietnam National Day" started at the Shanghai Expo China 2010 on September 2.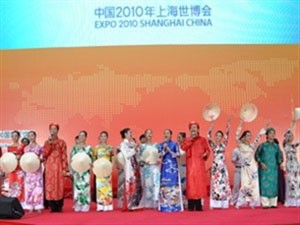 "The Vietnam National Day" is part of the program titled "Vietnamese days in China".
Vietnamese Minister of Culture, Sports and Tourism Hoang Tuan Anh, Vietnamese Ambassador Doan Manh Giao and Deputy Head of the China National Tourism Administration Du Ri Li along with more than 200 representatives from offices, organisation and enterprises from China and Vietnam attended the event.
Addressing the opening ceremony, Minister Anh stressed that the event is of special significance as it is being organised on the occasion of the 65 th anniversary of Vietnam's National Day (September 2), the Vietnam-China Friendship Year and 60 th anniversary of Vietnam-China diplomatic ties.
2010 is an important year to Vietnam as the country will celebrate the 1,000 th anniversary of Thang Long-Hanoi while assuming the ASEAN Chair. Thus, the country wishes to work with all neighbouring countries and other partners for peace, stability, cooperation and development of Asia and the world, he said.
For his part, Du Ri Li spoke highly of Vietnam 's contributions to the Shanghai Expo. He said Vietnam and China are creating new opportunities after 60 years of establishing diplomatic ties, adding that cooperation in politics, economics, science-technology and culture is developing fruitfully thanks to the special attention of the two countries' leaders, he said.
Within the framework of the event, Vietnamese artists staged a special performance highlighting the country's traditional culture. Nearly 300 Vietnamese and Chinese enterprises also attended a forum on investment cooperation jointly held by Vietnam Chamber of Commerce and Industry and Shanghai Trade Promotion Committee.