A rock concert titled "Go!Go!Japan" featuring Japanese rock stars will be held at the National Exhibition Center on Giang Vo Street in Hanoi on December 3, announced the Japan Foundation Center for Cultural Exchange in Vietnam.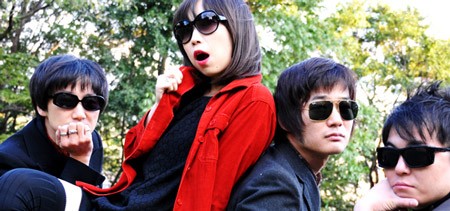 The Japanese rock band "Molice"
The concert aims to lift the spirit of Japan in the aftermath of the earthquake and tsunami disaster on March 11 and honor the on-going solidarity between Vietnam and Japan.
Leading rock bands Molice and Okamoto's will be onstage together with Electric Eel Shock and Vietnamese rockers of the Ngu Cung and Rosewood bands.
The Okamoto's are Japan's fastest rising stars. Young, dynamic and talented, the band has forged a name for themselves over the last 3 years with their intense, brash, raw sound stage shows. The band has three members including drummer Mick Jagger, guitarist Keith Moon and bassist Ramones. The group of 20 year olds held 100 performances in 2009 and become popular internationally with tours in the US, Australia and Hong Kong.
Electric Eel Shock formed in Tokyo in the late 90s, having spent over a decade constantly touring and playing in every festival and city you could have heard of across Europe and America. They won the Best Music Act of the Year at the NEO Music Awards.
Molice was established in 2007 and has since released three albums. Cat-suit wearing front woman Rinko has made Molice popular with fans.
Ngu Cung (or Pentatonic) is a quintet from Hanoi hailed as one of the most technically impressive bands in Vietnam for their pick of progressive rock/metal with strong cultural & traditional flavors. Founded in 2007, they won the title of "Best band" at the Tiger Translate contest in 2007 and were chosen to support 'My Chemical Romance' on their first appearance in Vietnam.
The band includes guitarist Vu Ha, bassist Nam Thang, drummer Trung Kien, vocalist and guitarist Vu Nhat Linh. They have won fans around the nation with their performances at rock shows including Rockstorm, Tiger Translate Metropolis and the CAMA Festival.
Tickets are priced between VND60,000-VND80,000.