One hundred works including works in oil, lacquer and acrylic and an installation created by eight Vietnamese and eight Japanese artists is being shown at the Vietnam – Japan Contemporary Art Exhibition 2010 in Ho Chi Minh City.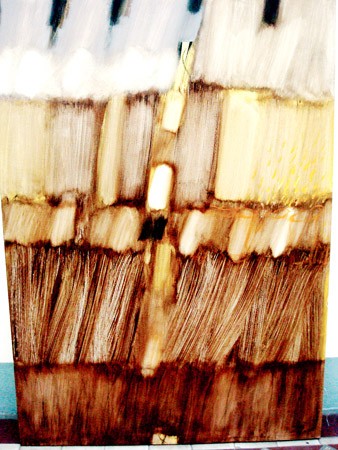 One of works is displayed at the Vietnam - Japan Contemporary Art Exhibition.
In the exhibition, Color is used as a common language, artist Suganuma said. By using color, he wants to find out about Vietnamese colors and Vietnamese.
Japanese artists brings to the exhibition with series of colors such as color of the sunshine, color of leaves, wind, time and color of joy and sadness.
In the exhibition, Japanese artists bring the atmosphere of their country and their thoughts about the fine arts.
Ryoichi Hiratsuka brought to Vietnam a work named "No subject" with materials of leaves in Japan. The picture depicts bright and dark moment, joy and sadness moment.
Aki Miwa used watercolor to depict her feelings on paper, giving a sense of springtime in Japan through trees, flowers and meadows.
In Yoshiki Takara's Colour Chart, he uses multiple colours on transparent, white cloths hanging from the ceiling.
The photos of sites where he travelled are screened on the cloth to help visitors sense the soul of each place.
He brought to Viet Nam the wind and colour from Yogyakarta, Indonesia and the hardness of the Senko Elementary School in Tokyo.
Vietnamese-German artist Khai Doan uses lacquer, a medium he studied for more than seven years.
 
"The World" work, which took him six months to finish, is a triptych of lacquer paintings reflecting his conflicting feelings about life.
The first piece represents the earth and its connections while the second is about the slow disintegration of the planet after becoming too hot due to "movement inside The World", Doan says.
Doan says the last painting is the one that represents the healed world, adding that its image looks like a human brain.
The joint exhibition was organised by the Blue Space Contemporary Arts Centre.
The exhibition creates chance for Vietnamese and Japanese artists to exchange culture and share experience, said Tran Thi Huynh Nga, director of Blue Space Contemporary Arts Center.
 
The exhibition starts on August 20 until August 29 at 97A Pho Duc Chinh Street, District 1, HCMC.