The 21st Vietnam International Jewelry Fair (VIJF), the largest Gem and Jewelry show of its kind in Vietnam since 1992, will be held from November 1-5 in Phu Tho Stadium on 221 Ly Thuong Kiet Street in District 11,  the Saigon Jewelry Company (SJC) has announced.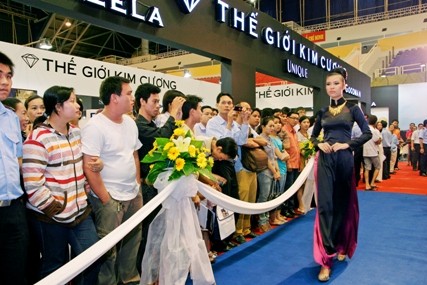 A model showcases the glitz and glamour of exquisite jewelry at last year's exhibition
The main aim and purpose of VIJF is to enable a productive interaction between buyers and jewelry manufacturers. 
VIJF has expanded over the years since its inception in 1982. The annual event has flourished from a homegrown exhibition to a jewelry show of international standards. 
VIJF is a platform for both domestic and international companies to interact and establish business contact and build lucrative relationships.  It is also a chance to honor the achievements of gold and jewelry enterprises across the globe.
The show will have 140 booths, divided into two sections. One will be for local and international jewelry display and the other for display of machinery and material.
In addition, event organizers will give away awards for Golden Craftsmanship and 3D Designs to artists. On November 2, there will be a seminar on 'Knowledge and Understanding of Natural Diamonds and other Semi-precious Stones'.
VIJF 2012 is expected to attract more than 80 exhibitors from China, Italy, Singapore, Malaysia, Hong Kong (China) , Israel, Japan, Thailand and the US as well as thousands of trade and public visitors. 
The domestic market will be represented by major brands such as SJC, Zela, Goodman, Unique, Golden Dew, PNJ, Cao, Doji, Sacombank, Phuong Nam, Compa, to name a few, who will showcase their collections of fine jewelry and gemstones. 
The vibrancy and glitter of the showpieces will be complemented by an exciting line-up of event highlights.
The event fulfills the City People's Committee's objective of creating an active environment for business enterprises in the jewelry trade.