The Vietnamese version of the US television show American Idol is coming to Channel VTV6 of Vietnamese Television at 9 pm on Tuesday and Saturday every week in June.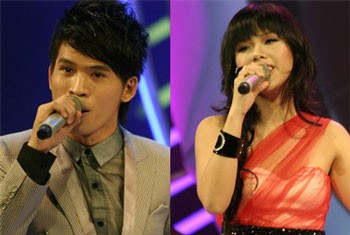 Singers Phuong Vy (R) and Tran Quoc Thien (L) win the Vietnam Idol competitions in 2007 and 2008.
Viet Nam Idol features contestants between the ages of 16 and 30 who have never taken part in a singing competition.

Auditions will be held in the central coastal city of Da Nang from June 27-29, in Ha Noi from July 3-7, the Mekong Delta City of Can Tho from July 13-15 and in Ho Chi Minh City from July 21-25.

The organizational board will arrange mobile cars for contestants in mountainous areas of the North and highlands region.

The three judges, including singer Siu Black, will whittle the top one hundred contestants down to 16, ten, two and finally one.

Viewers will be able to vote by text or a phone call to decide whom goes on to the next level, which contestants they think should be eliminated and finally their choice for the year's winner.

The winner of Vietnam Idol 2010 will receive a cash prize of US$20,000.

 The final rounds including 10 performances will be broadcast on VTV6 and VTV3 channels.
The climactic final show will take place in Ho Chi Minh City on December 25 and broadcast live on VTV6 channel.

Singers Phuong Vy of Ho Chi Minh City and Tran Quoc Thien of Dong Nai Province won the Vietnam Idol competitions in 2007 and 2008.