Vietnam has been elected to the 21-member World Heritage Committee (WHC) of the United Nations Educational, Scientific and Cultural Organisation (UNESCO) during the 2013-2017 tenure for the first time.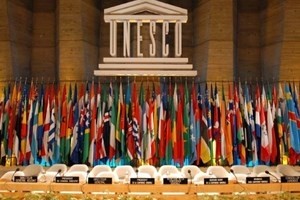 (Photo:VNA)
The election results came out at the 19th session of the General Assembly of States Parties to the World Heritage Convention in Paris, France, on November 19.
Associate Professor Dang Van Bai, a member of the Vietnam National Cultural Heritage Council, described the event as a great honour of Vietnam as the WHC is one of the most important professional committees of the UNESCO.
The WHC has the right to decide many significant issues regarding the recognition of the world cultural and natural heritage and the evaluation of the preservation of the world heritage sites globally, as well as guidelines, policies and development orientations of the World Heritage Convention.
Vietnam ratified the Convention Concerning the Protection of the World Cultural and Natural Heritage in 1987 and the country has to date had seven pieces of cultural and natural heritage inscribed in the UNESCO's world heritage list.
Bai attributed the winning of the WHC membership to the country's ceaseless efforts to enhance the management and protection of outstanding universal values, integrity, and authenticity of world heritage sites of not only Vietnam but the humankind as a whole.
Vietnam has also proactively and eagerly partnered with many countries worldwide, especially those in Asia-Pacific to organise international events, seminars and training courses to exchange experience in the work.
The establishment of a working team competent in the management and conservation of world heritage allows Vietnam to confidently take on new responsibilities as a WHC member, Bai noted.
Vietnam committed to firmly protecting the outstanding universal values, integrity and authenticity of world heritage within its territory, he said.
The country will enhance exchanges of experience and support other States Parties, especially those in Southeast Asia and other developing countries, in the management and protection of world heritage sites.
At the same time, it will promote public awareness of world heritage and encourage all parties, including the public and private sectors as well as local communities to participate in heritage preservation.
The country will conduct in-depth research and facilitate the sharing of knowledge on the outstanding universal values ​ of world heritage sites, Bai said.