The "Vietnam Days in Turin" cultural programme officially kicked off in the Italian city of Turin on September 13 with an exhibition themed "Vietnamese cultural space."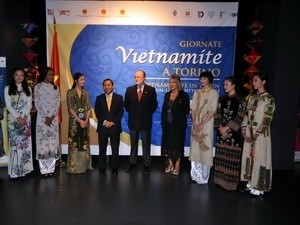 The opening ceremony of the exhibition "Vietnamese cultural space." (Source: VNA)
The display is showcasing images of Hanoi and central Hoi An city alongside historical photographs of Vietnam through the ages and scenes from its past interactions with Italy. A fine collection of Ao Dai (Vietnamese traditional long dress) has also gone on show.
On the same day, a seminar introducing investment opportunities in Vietnam was held, attracting the interest of more than 70 local businesses.
Speaking at the seminar, Vietnamese Ambassador to Italy Nguyen Hoang Long briefed attendees on Vietnam and its investment environment.
The ambassador urged Turin's businesses, especially those operating in the mechanical, financial, and agricultural sectors to invest in Vietnam.
He expressed hope that the municipal authorities would coordinate with the Vietnamese Embassy in Italy to open a Vietnam representative office in Turin to provide the city's enterprises with easy access to information on the southeast Asian country.
Vice Chairman of the Turin Small and Medium-Sized Business Association Mario Cavarero committed his support to opening the office and said the association will create favourable conditions for local firms to invest and do business in Vietnam.
In an interview with Rome-based Vietnam News Agency correspondents, Long said the Vietnamese and Italian Governments are working together to hold a "Vietnam Year in Italy" and a corresponding "Italy Year in Vietnam" in order to mark the 40 th anniversary of diplomatic ties between the two countries.
In Italy, over 100 events related to Vietnamese politics, diplomacy, economics, culture, education, sports, and tourism were organised in Rome, Florence, Boglona, Venice, and Turin. Similar activities are slated for Milan and Genova before the "Vietnam Year in Italy" concludes in Rome.
On September 13, the Ambassador held a working session with the Turin-based FATA Group, one of Europe's leading firms in the field of industrial plant engineering and construction .
FATA desires closer cooperation with Vietnam, an attractive market it sees as compatible with its strengths.
At another meeting held between the ambassador and leaders of the border Valle d'Aosta Autonomous Region, the two sides discussed the possibility of Vietnamese students receiving support to study in the area, especially for those who can speak French – one of two official languages spoken in the region. The officials also pledged to assist Vietnam to enhance its eco-tourism sector.-VNA