The Vietnam – China Youth Festival is an important foundation to boost cooperative relations and promote friendship between two nations, said Lam Phuong Thanh, Standing Secretary of the Central Committee of the Ho Chi Minh Communist Youth Union.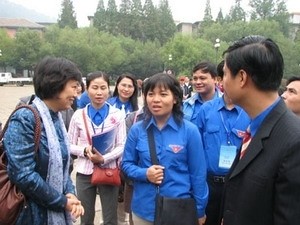 Vietnamese youths take part in the opening ceremony of the Vietnam - China Youth Festival in China's Guangxi Province on August 25. (Photo:VNA)
The opening ceremony was held on August 25 in China's Guangxi Province with participation of Chen Jiwa, Vice Secretary of the Communist Party Committee of Guangxi and nearly 1,500 Vietnamese and Chinese youths.
The event is expected to attract 32,000 youths of two nations, who will join activities spanning eight cities over five days.
With the theme, "Vietnamese and Chinese youths join hands to foster friendship", the Vietnamese youths will visit relics that are associated with Vietnam's revolutionary history, join activities to protect the environment, meet with local young people and attend seminars on young businessmen's start-up.