Serious musical composition in Viet Nam is fifty years behind the times, an American academic told a seminar at the Ho Chi Minh City Conservatory of Music yesterday.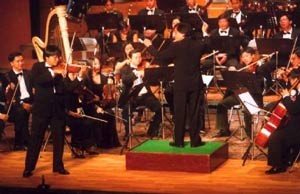 A serious musical performance in the Ho Chi Minh City Conservatory of Music

Professor Dirk Johan Stromberg was referring to both the techniques employed by Vietnamese composers and the sound coordination in their work.

Criticism aside, he said many Vietnamese composers were genuinely talented and knew how to blend traditional elements into contemporary music and create their own unique styles.

As evidence of this, he said the performances in the conservatory's music exchange program presented an exciting challenge and showed the potential of Vietnamese composers.

Another American music professor, Gary Powell Nash, told the audience of academics, students and musicians how impressed he was with the devotion of Vietnamese performers and composers and said he hoped to work with the conservatory to train promising youngsters.

The theme of the seminar was "contemporary music in Vietnam and the world" and was held to share experiences in performing, teaching and composing in a modern style without giving up the traditional touch.

Many of the speakers agreed that music students in other countries had more advantages than those in Vietnam. Besides theory, they had more opportunities to develop their creativity and join actual performances on stage.

Still, the conservatory is on its way to integration into the world of diverse cultures and styles of music while preserving the country's traditional musical elements, according to the school's principal, Van Thi Minh Huong.

It is also committed to helping students develop by organizing more musical events to improve their skills and attract more classical music lovers.

Moreover, classical music pieces will be performed in a fresh, modern style with simpler content to attract a wider audience, Mr. Huong said.

The seminar, which was sponsored by Sai Gon Giai Phong newspaper and the International Media Company, is being followed by concerts over three nights from Wednesday to Friday at the conservatory.

They are being held under the banner "Contemporary Music Exchange between Vietnam and the World".