A colourful combination of cultural and art performances in front of about 2,000 guests in the Chatelet Theatre, Paris has officially opened the Viet Nam Year in France.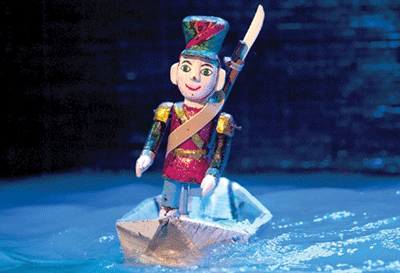 A scene in The Steadfast Tin Soldier of a three-part puppet show presented to French audience in Paris recently is seen as the first activity to kick off the Viet Nam Year in France. Adapted from Danish author Hans Christian Andersen's fairy tales, the show is a co-operation between France and Viet Nam. — Photo courtesy of Viet Nam National Puppetry Theatre
Following the France Year in Viet Nam to celebrate the 40th anniversary of diplomatic relationship between the two countries, the Viet Nam Year is expected to present some 150 cultural events across France between February and July.
The opening witnessed the attendance of Vietnamese Minister of Culture and Sports Hoang Tuan Anh, who is visiting France from Thursday to Sunday.
During his first two working days, Anh met with UNESCO General Director Irina Bokova and other French high-ranking officials after visiting Living History Museum in Paris, [late President] Ho Chi Minh Space in Montreuil City, and laid wreaths at Ho Chi Minh Statue in Montreal Park.
Speaking to the UNESCO leader, Anh thanked the United Nations body and its relevant authorities for having supported Viet Nam in heritage recognition and in conserving and bringing into full play the honoured heritage.
He informed Bokova of Viet Nam's hosting a culture festival of the Association of Southeast Asian Nations (ASEAN) in April.
"This proves Viet Nam attaches much importance and gives prominence to culture. Of note, Viet Nam plays an active and initiative role in building the three ASEAN communities in 2015 including the social-cultural community," Anh said.
Bokova told the minister that she had recommended to the UN General Assembly president to hold a special session reflecting the relationship between culture and development and officially invited the minister to attend.
"Cultural diplomacy" is a key in international integration, she said, emphasising that "if we want to perform it effectively we need to have competent experts".
Thus, she added, Viet Nam should assign young personnel to work in UNESCO to enable them to become cultural diplomats, especially in the area of heritage.
At a meeting with Minister and President of the French Institute Xavier Darcos, the Vietnamese minister affirmed that the 2013 France Year in Viet Nam had received positive response from Vietnamese audiences.
He said he highly believed that the Viet Nam Year in France would leave a deep impression on the French friends, expressing hope that the cultural exchange between the two countries would not stop there but continue further in the future.
Darcos, for his part, said Anh's visit to launch the Viet Nam Year in France demonstrated that the Vietnamese Government gave this event a due importance, adding that the French Government also paid great attention to exchange activities with Viet Nam.
He shared the Vietnamese minister's view that the Viet Nam-France Exchange Year is not a short term project, and it should be passed down to young generations in order to foster the traditional friendship between the two nations.
At Anh's talks with French Minister of Culture and Communication Aurelie Filippetti, both sides vowed to work more closely in the future, after reviewing the bilateral partnership in culture, including projects on preserving Vietnamese cultural heritage.
Filippetti said the Viet Nam Year in France was a chance to introduce to both peoples the growing bilateral partnership of the two countries.
After the talks, the two ministers witnessed the signing of a co-operation agreement between the Viet Nam Film Institute (IFV) and the France's National Audiovisual Institute (INA) under which, the INA will lend IFV 203 audio-visual materials with a total length of 5 hours and 30 minutes and 528 radio materials running 97 hours. The materials include some records of President Ho's speeches and military campaigns between 1945 and1954.
Cultural links
Speaking to Vietnam News Agency's representative in France, Viet Nam's ambassador to the country Duong Chi Dung said the Viet Nam Year in France would introduce to French and international friends about an Asian nation that had been so close and connected to France through history, culture and other ties, which were strengthened through Strategic Partnerships signed between two sides last year.
"The event will make strong advances in the mutual relationship between the two countries as well as localities, connecting communities," said Dung.
"It's an ample opportunity for Viet Nam to learn from France in terms of technology and experience in organising activities to promote the country's images abroad methodically and professionally."
Regarding cultural co-operation, Dung said the two sides were prepared to organise the biggest exhibition entitled "Dragons on Antiques" at the Guimet Museum in Paris in September and a large-scale conference "Viet Nam Arts, a New Approach."
A range of activities will also be held to accelerate Vietnamese cinematography works, circus, water puppetry, contemporary dance and music, ca tru (ceremonial singing), and traditional martial arts performance. In particular, Vietnamese cuisine will be promoted through special programmes in local hotels, on streets and public spaces.