As there are only four days left to the 1,000th anniversary of Thang Long – Hanoi, a series of activities will take place in Hanoi and some large provinces and cities to mark a millennium of struggle for national independence and freedom, promote relations with international friends and increase the capital city's position.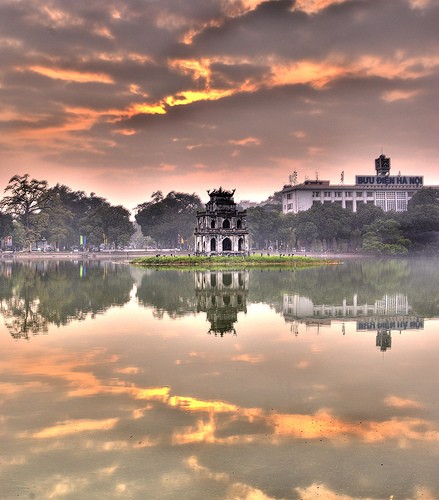 Hoan Kiem Lake
In Ho Chi Minh City, a music performance was jointly held by the Department of Culture, Sport and Tourism and Bong Sen Song and Dance Theatre, marking the millennium of Thang Long – Hanoi with theme "Ho Chi Minh City towards the 1,000 anniversary of Thang Long – Hanoi" at 23 September Park on September 25.
The performance also aimed to welcome the 9th Ho Chi Minh City Party Congress.
In Hanoi, police on September 25 implemented a manoeuvre to ensure political and social security and measures to fight fire.
Deputy Prime Minister Truong Vinh Trong and leaders of the Ministry of Public Security attended the manoeuvre.
Police determine to ensure safety of the 1,000th anniversary of Thang Long – Hanoi as well as the 10th National Party Congress of the Communist Party of Vietnam and other events in Hanoi.
Following UNESCO's recognition of the 82 laureate steles from the Le-Mac dynasties in the Temple of Literature as world culture heritage, the Thang Long Imperial Citadel has also recently been recognised by UNESCO.
The 10-day anniversary celebration will bring together many politicians, cultural activists and scientists from across the country and foreign visitors. 
A ceremony will open the festival in the morning of October 1 at the Ly Thai To Garden. The celebrations will conclude with a meeting and a march and parade at the Ba Dinh Square on October 10.
Earlier, the organizing board of the Thang Long-Hanoi Great Anniversary has announced detailed activities for the ten-day anniversary (October 1-10).
October 1
8am: Opening ceremony at Ly Thai To Flower Garden (in front of Hoan Kiem Lake)
9.30am: Art shows at five stages around Hoan Kiem Lake
2pm: Exhibition of literary and art works about Hanoi at 2 Hoa Lu, Hai Ba Trung Street
3pm: Photo exhibition about Hanoi at 45 Trang Tien
7.30pm: Exhibition of Vietnam and Hanoi's economic-social achievements at 138 Giang Vo
7.30pm: Film week at National Cinema Center, 87 Lang Ha
8pm: Video conference between Hanoi and other provinces on VTV channel, special arts show and ao dai performance around Hoan Kiem Lake
 
October 2
8am: Exhibition of artifacts about Hanoi's 1,000 years at the Thang Long Royal Citadel, 9 Hoang Dieu and 19 Nguyen Tri Phuong
9am: Introduction of a bookshelf about Thang Long-Hanoi at National Library, 31 Trang Thi
2pm: Announcement of a comprehensive scientific research work about Hanoi at the Hanoi Opera House
8pm: Introduction of new songs about Hanoi at Ba Kieu Temple
8pm: Thang Long-Hanoi International Tourism Festival to open at Bao Son Heaven Park
 
October 3
7am: Ha Noi Moi newspaper marathon race around Hoan Kiem Lake
Final match of Thang Long-Hanoi Football Cup at My Dinh Stadium
8pm: Thang Long-Hanoi in Ho Chi Minh Age art show at Hang Day Stadium
 
October 4
8.30am: Award ceremony of the contest about knowledge of Thang Long-Hanoi's 1,000 years and the city's heroes at the Hanoi Opera House
3pm: Exhibition of Vietnamese heroes and great men in Vietnamese culture at the Revolutionary Museum, 25 Ton Dan
3.30pm: Exhibition of famous battles and military campaigns in Vietnam's military history at the Vietnam Military History Museum, 28A Dien Bien Phu
5pm: Calligraphy exhibition and festival at the Temple of Literature
8pm: Award ceremony of the national press contest about Thang Long-Hanoi's 1,000 years at 8 Huynh Thuc Khang
8pm: Thang Long-Hanoi ancient dance show at Ly Thai To flower garden
 
 
October 5
9am: Introducing the Hanoi ceramic road on Yen Phu road
2pm: Bat Trang ceramic – Tradition and Modernity exhibition at Bat Trang village
2pm: Hearts for Thang Long-Hanoi exhibition at Hanoi Cultural Friendship Palace
8pm: A music show of famous Vietnamese artists at the Hanoi Opera House
8pm: A great show entitled "Thang Long Spirit – Song for the Country" at Hang Day Stadium
 
October 6
8am: Hanoi Kite Festival at My Dinh square
8am: Martial arts performance at Quan Ngua Sports Palace
8.30: Inauguration of Hanoi Museum
2pm: Inauguration of Hoa Binh Park at Tu Liem district
2pm: Inauguration of President Ho Chi Minh – President Ton Duc Thang statues at Thong Nhat park
2pm: Old Hanoi photo exhibition at Hanoi Museum, Pham Hung road
2.30pm: Inauguration of Kim Dong Theatre at 19 Hang Bai
8pm: Inauguration of Worker Theatre at 42 Trang Tien
8pm: Inauguration of Dai Nam Theatre at 48 Hue Street
8pm: Hanoi food festival at Ho Tay Water Park
 
October 7
8am: International workshop on Hanoi's sustainable development at 11 Le Hong Phong
9am: Award ceremony of international contest about Hanoi at the Hanoi Opera House
8pm: Traditional music show at Hanoi Opera House
 
October 8
7am: Cultural and arts program for youngsters at outdoor stages around Hoan Kiem Lake
8pm: Meeting of 1,000 heroes and heroic mothers at the National Convention Center
8pm: Street festival at State Bank of Vietnam Square, 49 Ly Thai To
 
October 9 
8am: Inauguration of Thanh Tri and Vinh Tuy Bridges
9.30am: Inauguration of Thang Long Avenue
8pm: Shows by international art troupes at outdoor stages in Hanoi
 
October 10
8am: Meeting and marching at Ba Dinh Square
8pm: Cultural and art festival at My Dinh Stadium