The New York Philharmonic, the U.S.' oldest orchestra and one of the best known orchestras in the world, will travel to Vietnam for perfromaces at Hanoi Opera House on October 16-17.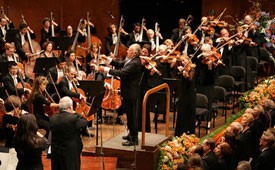 The New York Phiharmonic
Hanoi is one of destinations for the orchestra's October 8 to 28 Asian tour, including Tokyo, Seoul, Singapore and Abu Dhabi (UAE).
Founded in 1842, the orchestra, with 400 instrumental and vocal performers, gives around 180 performances around the world every year.

The orchestra has performed in 420 cities in 60 countries and territories.
American violinist and conductor Alan Gilbert is currently the orchestra's president, and made his debut performance on September 16 as the orchestra's music director for the 2009-2010 season.

The orchestra will also participate in a music exchange with students and teachers at Vietnam's National Conservatory of Music.

Tickets cost (per person): VND3.5 million (US$190); VND3 million ($166); VND2.5 million ($140); and VND1.5 million ($80).