A free concert titled "MTV Exit Live in Hanoi" featuring famous Korean boy-band Super Junior and Australian singer Kate Miller Heidke will be held at Hanoi's My Dinh Stadium on March 27.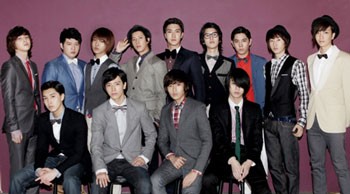 The Korean boy band Super Junior
The show will also include top local artists like Ha Anh Tuan, Pham Anh Khoa and Phuong Vy.
MTV Exit (MTV End Exploitation and Trafficking) is a campaign to raise awareness and increase prevention of human trafficking in Europe and Asia.
Since the campaign launched in 2004, MTV Exit has created various programs and activities to inform and empower millions of young people around the globe, helping them take action within their communities to stop human trafficking.
MTV Exit is produced by the MTV Europe Foundation in partnership with the US Agency for International Development (USAID) and the Australian Government's Agency for International Development (AusAID).
After the Hanoi concert, the tour continues to Halong Bay, Can Tho and Ho Chi Minh City, striving to educate youth about the dangers of human trafficking.
The second concert will be held on April 3 in Halong Bay – a UNESCO World Heritage Site. The tour then moves on to Can Tho on April 10.
The final event featuring American band The Click Five – recipients of the Knockout Award at the MTV Asia Awards – will be held in HCMC at the Military Zone No.7 Stadium on April 17. The band is an avid supporter of MTV Exits' initiatives to end human trafficking.
MTV Exit has now held 15 concerts to raise awareness about human trafficking across Asia over the past two years, including events in Thailand, Laos, Cambodia, Nepal, Taiwan and the Philippines.
For ticketing information, visit
www.mtvexit.org
or
www.hoahoctro.vn