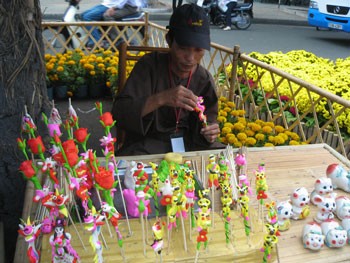 Making To he, a Vietnamese traditional toy on Tet (Photo: KK)

A series of cultural activities marking Vietnamese Lunar New Year will take place at Ho Chi Minh City Youth's Cultural House from January 28-February 12.


The programs include calligraphy street on January 28-February 7, performance of Vietnamese traditional martial arts on February 12, art balloon fest on February 11, game of human chess on February 10.
There will be music programs which to be performed by many well-known singers and artists in the country on February 2, 3,4,6,7 and 9.