Two young fashion designers, Thien Toan and Anh Vu, will represent the country as they participate in three international fashion shows: one in Germany's Berlin and two in Singapore.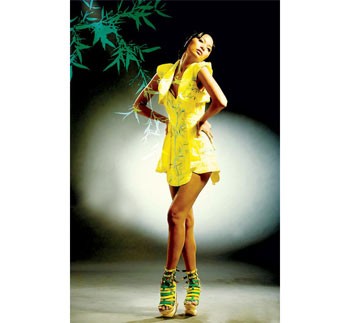 A design by Thien Toan
Thien Toan will compete with his counterparts coming from China, the Republic of Korea, Japan, Malaysia, Indonesia, Singapore, and Thailand in the final round of the Asia Pacific Week Berlin 2007 taking place at Kosmos center from September 21 to 23.
Toan will present around 20 designs themed "Terraced fields" and "Bamboo."  The collection will feature garments made of silk, organza, taffeta, and linen. The dresses are inspired by images of the sun, terraced rice fields, and bamboo, which are considered to represent the will and strength of the Vietnamese people.
The biannual event known as the Asia-Pacific Weeks (APW) is an initiative of the Governing Mayor of Berlin. It is Europe's foremost platform for political, economic, cultural, and scientific dialogue with partner-countries in the Asia-Pacific Region. The event in Berlin is operating under the slogan "Gateway to Asia."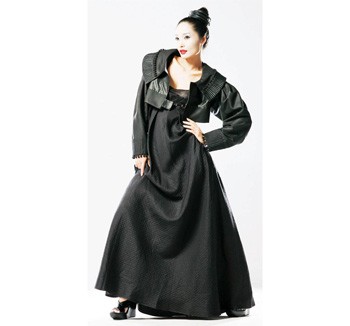 A dress by Anh Vu
Meanwhile a score of designs by Anh Vu will be unveiled at the Aftex 30 Celebration Program scheduled in Suntec City, Singapore on October 12 and  the ASEAN Designer Show in Vivo City, Singapore on October 14.  The designs are meant to fuse European fashion with the traditional clothing of the H'mong and Ha Nhi (ethnic minority groups in Viet Nam).  The designs are mainly made of silk, satin, habota, and tussore.
The fashion shows are part of Singapore Fashion Week 2007 and were designed by the Asia Fashion Federation to recognize young fashion designers of  ASEAN.

This year's event marks the 30th anniversary of the ASEAN Federation of Textile Industries (Aftex) and the 40th anniversary of the Association of Southeast Asian Nations (ASEAN).
Vu will not be the only Asian fashion designer to present designs; this big  event will also feature a cluster of Asian fashion designers representing countries such as China, Japan, Korea, Thailand, Singapore, and more.
The two young fashion designers are currently working at the Phuong Dong Garment Joint Stock Company.