Two TV series for children will be on air on HTV 7 and HTV 9 channels of Ho Chi Minh City Television, adding flavor to the summer movie menu for little audiences in the city.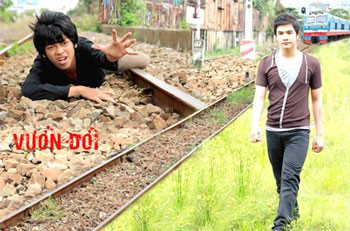 Poster of the TV series Vuon doi (Garden of life)
Vuon doi (Garden of life) scripted by Nguyen Quy Dung is an action and martial arts 32-episode TV series. The Nam Sai Gon Film Studio movie depicts poor children living along railway tracks. They lack love, care and education from their families and there is no one to tell them how to differentiate between good and evil.
Fortunately the community and the government take interest in the disadvantaged children and protect them from evil and lead the children on the right path. The children take part in martial art classes and build a sporting and competitive spirit.
Director Nguyen Quoc Thinh said that the movie was a chance and a challenge to describe the usefulness of martial arts in developing a sporting spirit.
The film will be on air at 8.45 pm from Wednesday to Sunday every week on HTV 7 from July 7.
On the other hand, the 40-part TV serial, Luc lac huyen bi (The magic tintinnabulum) will be aired at 6 pm Monday to Wednesday and also on Sunday on HTV 9.
This fiction film is produced by Ho Chi Minh Television Film Studios (TFS) and has attracted many children with its funny stories.