The Vietnam Record Book Center (Vietking) has announced that 12 Vietnamese dishes have been officially recognized as Asian Records by the Asian Record Organization.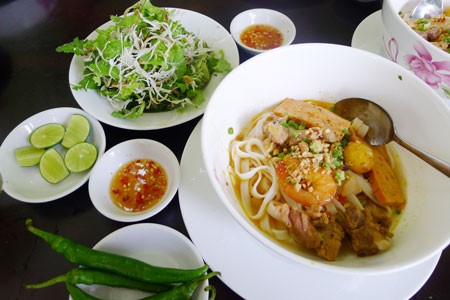 Mi Quang (Quang noodle) (Photo: SGGP)

These 12 popular Vietnamese dishes include Pho ; Bun Cha (noodle and barbecue pork); Bun Thang (Thang noodle); Banh Da Cua Hai Phong (Hai Phong fried crab meat with vermicelli); Com Chay Ninh Binh (Ninh Binh crispy rice cracker); Mien Luon Nghe An (Nghe An eel cassava vermicelli); Bun Bo Hue (Hue spicy beef noodle soup); Mi Quang (Quang noodle); Pho Kho Gia Lai (Gia Lai dry noodle); Banh Khot Vung Tau (Vung Tau small shrimp fried pancake; Goi cuon Saigon (Saigon spring roll); Com Tam Saigon (Saigon's broken rice).
Vietnam Record Organization has also nominated five local dishes for the Asian Record, namely, Cha Ca La Vong (La Vong fried fish); Banh Canh Trang Bang (Trang Bang rice noodle soup); Banh Cong Soc Trang (Soc Trang bean and pork-stuffed fried cake); Cha muc Ha Long (Ha Long Grilled Chopped Squid) and Bun ca ro dong Hai Duong (Hai Duong anabas fish noodle).
Regional special dishes have contributed greatly to promoting Vietnam's image to international visitors. All these dishes are made of natural ingredients and not just taste good but are also very healthy.