A special art performance on lunar New Year's Eve called Kitchen God 2011 is a much awaited annual program on Vietnamese Television.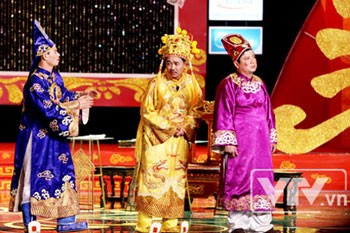 Kitchen God performance attract many TV watchers.
The performance is a comedy of typical questions criticizing bad things and strange habits in our society. Viewers are greatly amused at the jibes and puns of this comedy and this popular show always brings laughter to all in the family.

Viewers will also have a chance to enjoy a musical concert by famous singers My Linh, Ho Quynh Huong, the 5 Dong Ke band, dancer Linh Nga and many others.

Overseas Vietnamese singers Lan Huong, Pham Quynh Anh and musician Duc Huy will also be participating.

A theme based show 'Laughing Gala 2011' featuring many well-known comedians from the North and South will present short comedies on VTV1 channel on February 4.