The film Trung So (Jackpot), directed by Vietnamese-American Dustin Nguyen, won the Golden Kite Award for feature movie at the ward ceremony in Hanoi on April 20.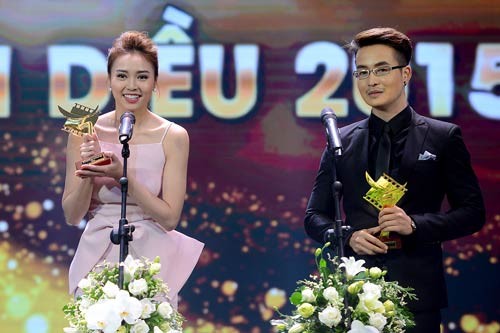 Actress Ninh Duong Lan Ngoc and actor Nguyen Thanh Tu

The comedy film Trung so (Jackpot) was represented Vietnam in the Best Foreign Language Film category at the 88th Annual Oscar Academy Awards.
The movie based on the true story is directed by Vietnamese-American Dustin Nguyen and written by writer and playwright Nguyen Manh Tuan.

The funny and touching story is about a girl selling lottery tickets in the Mekong Delta. She hands winning lottery tickets to a man who merely nods to buy them without paying her right away. She does that since he usually purchases the last tickets she has just before a lottery draw.

Movies, Cuoc Doi Cua Yen (Life of Yen) by director Dinh Tuan Vu, Nguoi Tro Ve (The Returner) by Dang Thai Huyen, and Toi Thay Hoa Vang Tren Co Xanh (Dear brother) by Victor Vu were given Silver Kite awards.
Actress Ninh Duong Lan Ngoc, who plays the role of Ut Thom in Jackpot, won Best Actress; and Nguyen Thanh Tu bagged Best Actor for his role in Cau Vong Khong Sac (Rainbow Without Colour). "Best director" went ot Dinh Tuan Vu for the film Cuoc Doi Cua Yen (Life of Yen).

In the category of TV Series, the Golden Kite award belonged to the series Tuoi Thanh Xuan (Forever Young) – a co-production of Vietnam Television's (VTV) Film Centre and the Republic of Korea's CJ E&M Pictures, directed by Nguyen Khai Anh. The film also won titles "Best actress", "Best actor" and  "Best Supporting Actress" that were presented to Nha Phuong, Viet Anh and Kim Tuyen.

The "Best director" was given to Nguyen Danh Dung for the TV series Khi Dan Chim Tro Ve (When the Birds Come Back).

The Silver Kite awards were presented to the TV series Khi Dan Chim Tro Ve (When the Birds Come Back) by Nguyen Danh Dung and Biet Thu Pansée (The Pansée Mansion) by Chau Tho and Minh Truong.
In the Short Movie category, the movie Cach Khac (Another Way) by La Tung Lam and Danh Tang Ong Dieu (Dedicated to Mr. Dieu) by Nguyen Hien Anh shared the Golden Kite award.
"Vestiges of Sa Huynh" directed by Phung Ngoc Tu received the Golden Kite award for the category of scientific film.

The cartoon Meo trang va meo mun (White cat and Black cat) by Pham Ngoc Tuan has been announced "The Best Animated Film".

The organization board also presented other titles "The jury award",  "Best cameraman"," Best designer" , "Best Scriptwriter", "Best Sound Editing"  and among to winners in every category.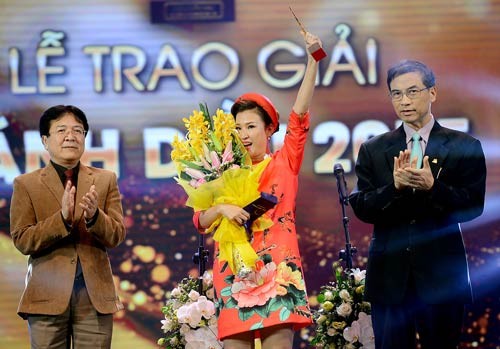 The film "Trung So" wins Golden Kite Award 2015.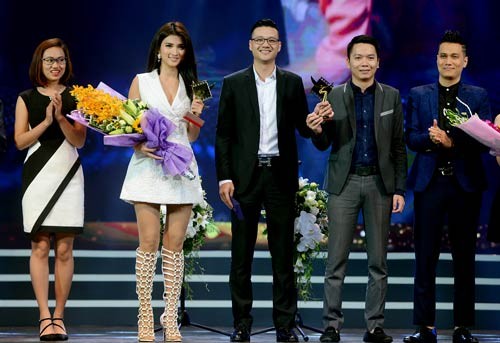 "Tuoi Thanh Xuan" film crew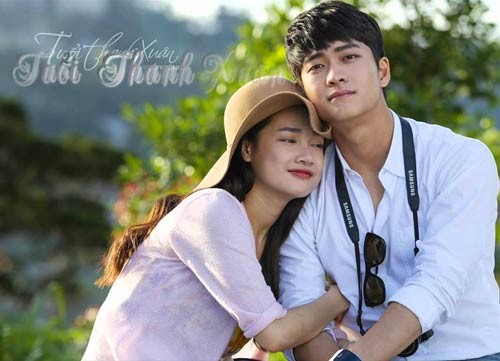 TV series "Tuoi Thanh Xuan"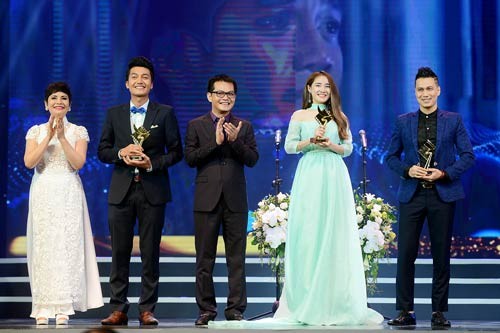 Actress Nha Phuong, actors Quang Tuan (L) and Viet Anh at the award ceremony