A departure ceremony of the trip entitled "Thang Long- the country's Sacred Soul" was held at the Uncle Ho Statue Park in front of headquarters People's Committee of Ho Chi Minh City on September 28.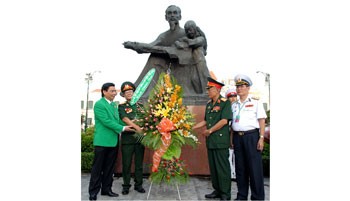 Generals offer flowers to the Uncle Ho Statue before departure time on September 28.
The tour is organized by the Vietnam Central Association of War Veterans, the Ho Chi Minh City Committee of Ho Chi Minh Communist Youth Union and Mai Linh Corporation.

The deputy chairman of the HCM City People's Committee, Hua Ngoc Thuan said that the "Thang Long-the country's Sacred Soul" is a meaningful program showing the love and respect of the southern people for the capital.
After offering flowers to the Statue of Uncle Ho, the delegation of 330 Vietnamese Heroic Mothers, Heroes of the People's Armed Forces, Labor Heroes and generals of provinces in the East and Southern East which was divided into two groups traveling to the highlands region and Binh Thuan province.
The organizer will gather respectively 1,000 delegatesfor the journey to Hanoi on the occasion of the capital's millennium birthday.

Related articles:
Legendary itinerary on moving capital to open the Grand Celebration
Various activities toward millennium of Thang Long - Hanoi
Billion-VND Aodai marks 1,000th anniversary of Thang Long- Hanoi
Hanoi counts down to Grand Celebration
A thousand years of Vietnamese culture to shine in Grand Celebration
Capital hurriedly prepares for its millennium anniversary