This month sees many regions in the country draw record crowds as they celebrate a rich and diverse traditional culture through colorful festivals.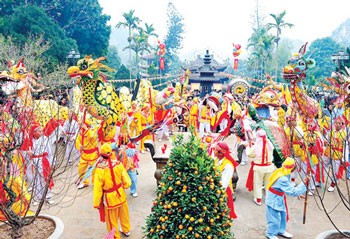 A performance of dragon-kylin dance in the opening ceremony of the Huong Pagoda Festival. (Photo:Sggp)
More than 100,000 pilgrims visited the Huong Pagoda in Ha Tay District, 60 kilometers from Hanoi between the first and the sixth day of the lunar New Year (February 3-8). Each year the Pagoda hosts a festival attracting more than a million pilgrims.

This year local authorities have invested more than VND5 billion (US$250,000) to improve and enlarge roads to make travel to the Pagoda more convenient and expect approximately 1.5 million pilgrims to visit the Pagoda during the festival period.
The organizers have laid out strict regulations to deal with violators and vandalism of Buddha's holy place of worship and the surrounding beauty, landscape and environment
The Huong Pagoda Festival is Vietnam's longest and most elaborate spiritual festival and is believed to have started during the Le – Trinh Dynasty (15th to 18th century). The three month long event will feature many traditional performances. Its opening ceremony is usually held on the sixth day of the lunar New Year.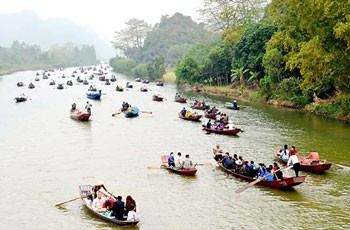 Piglrims flock to Huong Pagoda.  (Photo:Sggp)
Sightseeing trips to pagodas, temples and caves are among the other attractions of the festival to lure tourists and pilgrims.
On the same day, some other major traditional festivals like Soc-Soc Son Temple, Co Loa-Dong Anh and Hai Ba Trung-Me Linh have also officially opened in Hanoi.
The 584th anniversary of the Chi Lang – Xuong Giang victory (1427) over the Chinese Ming invaders was celebrated at the Bac Giang City on February 8-9. The victory showed the remarkable effort by the Lam Son insurgent army led by Le Loi and Nguyen Trai.

Another ceremony to pray for peace, prosperity and happiness of the country led by The Most Venerable Thich Thanh Tu, Vice Chairman of the Viet Nam Buddhist Sangha (VBS) Executive Council was organized at the Bai Dinh Pagoda in Gia Sinh Commune of Gia Vien District in Ninh Binh Province on the sixth day of the lunar New Year.

Thousands of pilgrims, Buddhist monks, nuns and visitors attended the event which will last throughout the spring season. The over 1000 year old Bai Dinh Pagoda has recently become the largest religious and spiritual center in the country.