Toyota Motor Vietnam (TMV) announced during a press conference October 28 that it would hold its 12th annual Toyota Classics Concert in Vietnam in support of local youth.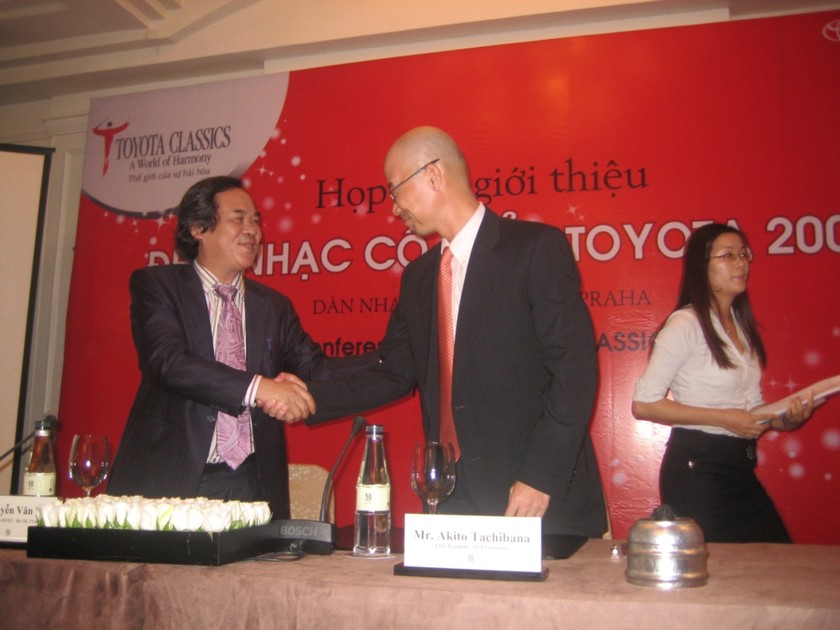 MOCST's representative Nguyen Van Tinh (1st, L) shakes hand with TMV President Akito Tachibana (Photo: Courtesy of Toyota)
This year, Toyota presents the world-famous Prague Chamber Orchestra from the Czech Republic on November 7 at Ho Chi Minh City's Opera House.
The orchestra is renowned as one of the most prestigious to perform European classical music.
The Toyota Classic 2009 concert will be held by TMV and Toyota Motor Corporation (TMC) in cooperation with the Arts Performance Agency and Ministry of Culture, Sports and Tourism (MOCST).
The event will be broadcast live on television channels VTC1 and VTC2 at 8pm.
Conductor Charles Olivieri Munroe will lead the orchestra, while soprano Marie Fajtová is set to perform masterpieces by Mozart, Beethoven, Rossini and Dvořák.
In addition, Nguyen Bich Thuy, a Vietnamese soprano and winner of a 2002 singing competition in Bangkok, Thailand will perform for the second time at the concert. Thuy was ranked amongst Vietnam's "Top 10 Young People of the Year" in 2003.
TMV and MOCST also signed a memorandum the same day to launch the first annual "Toyota Scholarship for Vietnamese Young Music Talents." The program aims to encourage and honor young Vietnamese music talents by providing 90 scholarships worth VND3 million (US$167) each.
Selected students will be chosen from five local universities including the National Musical Institute, Hue Musical College, Ho Chi Minh Musical College, Tay Bac Musical College, and Viet Bac Musical College.
Toyota also offers a scholarship program for outstanding Vietnamese students at technological universities.