The Ministry of Culture, Sports and Tourism December 31 announced ten outstanding cultural, sport and tourism events in 2013.

1.
After 15 years of implementation of the 5th plenum resolution of the 8th Party Central Committee,
it has helped Vietnam preserve its national distinctiveness and absorb quintessence of world culture.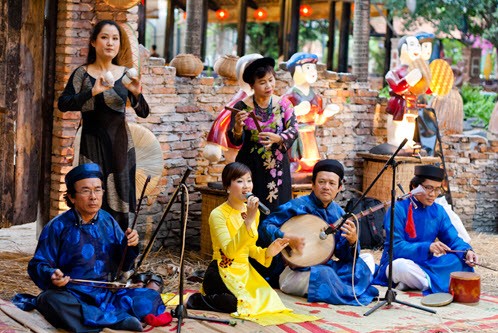 Don ca tai tu is recognized as  UNESCO's Intangible Cultural Heritage of Humanity
2.
Vietnam's "Don ca tai tu" (southern folk music)
has been recognized as  UNESCO's Intangible Cultural Heritage of Humanity.
3.
The "Great National Solidarity – Vietnamese Cultural Heritage Week"
aims to strengthen and honor the great soliarity  of Vietnamese ethnic groups including the Quang Nam Heritage Festival 2013; the first 'Ngo' Boat Race Festival of the ethnic Khmer people in the Mekong Delta province of Soc Trang; the cultural identity of the northwestern region at the 12th Culture, Sports and Tourism Festival for ethnic groups in the region in Hoa Binh province
4.
Weeks and days of cultural festivals
on the occasion of diplomatic relations between Vietnam and other countries in the world and arts festival Vietnam – Lao –Cambodia – Myanmar were organized successfully in the country.
5.
2013 was chosen as the Vietnamese Family Year
and most culturally representative families nationwide were commended.
6.
Vietnam ranked third over 44 nations and territories
on the tally in the fourth Asian Indoor and Martial Arts Games (AIMAG 4). It also ranked third over 11 nations in the 27th Southeast Asian Games and seventh over 45 nations and territories in the 2nd Asian Young Sports Festival.
7.
Highest achievements of Vietnamese athletes at international sport festivals.

Swimmer Nguyen Thi Anh Vien bagged 3 golds, 1 silvers in the 2nd Asian Young Sports Festival. In addition, she captured 3 golds, 2 silvers, 1 bronzes and smashed two SEA Games records at the 27th Southeast Asian Games.
Vietnam's Nguyen Ha Thanh pocketed a gold medal in the men's vault at the Grand Prix Osijek Zito Challenge Cup 2013.
At Shooting Range in Yangon, shooter Hoang Xuan Vinh got the first men's 10m air pistol gold for Vietnam.
Le Quang Liem became the new World Blitz Champion
Vietnam's best male badminton player Nguyen Tien Minh earned a bronze medal at the 2013 World Badminton Championships.
8.
Sporting festivals in districts are progressing to the national event in 2014.

9.
Vietnam welcomed 7.5 million international holidaymakers
and 35 million local tourists earning VND200 trillion finishing the target earlier.
10.
The National Tourism Year of the Red River Delta – Hai Phong 2013
and the International Conference on Spiritual Tourism for Sustainable Development were organized in the country.