Vietnamese model, Chung Thuc Quyen was selected to compete in the "2008 Miss Tourism Queen International" contest in China.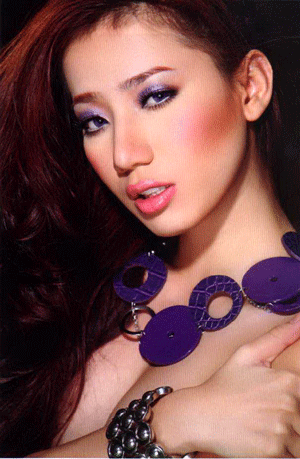 Thuc Quyen
The contest will run to April 12, 2008 and the final round will be on April 10 in ZhengZhou (China).
In order to prepare for the Miss Disco contest, Thuc Quyen has studied dance with the ABC Dance Company. In addition, athlete Phuong Loan has choreographed and guided Thuc Quyen with her silk dance to take part in the talent contest.
PL Model Company and Tinh Hoa expect Thuc Quyen will be voted through the internet as Miss Popularity, which will determine the top 15 models who will go on to the final round. Audiences can visit www.misstqi.com/vote_mtqi.php to vote for Thuc Quyen.
Thuc Quyen, before leaving Viet Nam to attend the contest, commented that she is very happy to compete in this contest because this is a good opportunity to promote Viet Nam tourism to the world as well as study about the world tourism industry.
Thuc Quyen was born in 1987 and has a height in 1m72. She is a professional model in HCMC. She has attended a few Miss Beauty contests in VN and adding to her talents is her ability to speak fluent Chinese.