More than 100,000 local people and visitors attended the Tran Temple Festival which opened in the Temple historical site in Nam Dinh Province on February 16.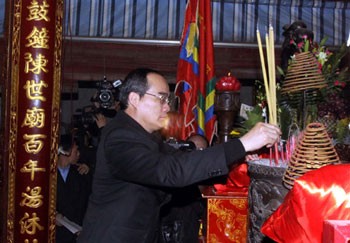 Deputy PM Nguyen Thien Nhan attends the Tran Temple Festival in Nam Dinh Province. (Photo: Vnexpress)
Tran Temple Festival is held annually on the death anniversary of General Tran Hung Dao. It takes place at the site of the Tran Dynasty at the outskirts of Nam Dinh City. The festival includes rituals and traditional cultural activities like a palanquin procession, folk games and musical performances.

The Tran Temple is located on an area of over 10 hectares with many communal houses, pagodas, temples, tombs and stone shrines. Amongst the complex lie the Thien Truong Temples dedicated to the 14 Tran Kings and the Co Trach Temple dedicated to Tran Hung Dao.
A similar event dedicated to the Tran Kings is being held in Hung Ha District in the northern province of Thai Binh from February 15 until February 17.
It is believed that those who get a piece of yellow silk stamped with the Tran Kings' seal will be achieve success in study and promotion in career.
Every year thousands flock into the temple to jostle each other for the piece of silk.