The famous diary of Dang Thuy Tram was officially published in the US (both online and in print) by Random House on Tuesday under the title "Last night I dreamed of peace".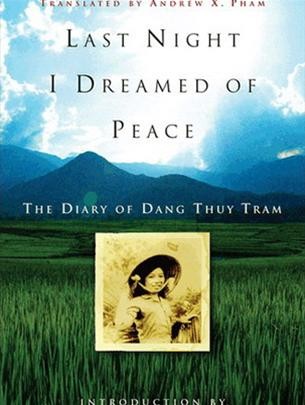 The cover of the book
The book was translated into English by an overseas Vietnamese, Andrew X. Pham. The preface was written by a Pulitzer-winning author, Frances Fitzgerald.

Dang Thuy Tram was a Vietnamese military doctor who worked as a battlefield surgeon for North Viet Nam during the US war. She was killed, at the age of 27 by United States forces while defending her hospital in the Quang Ngai province of south-central Viet Nam. Her wartime diaries, which chronicle the last three years of her life, attracted international attention following their publication in 2005.

In July 2005, Tram's diaries were published in Vietnamese under the title Nhat ky Dang Thuy Tram (The diary of Dang Thuy Tram), quickly becoming a best-seller. In less than a year the volume sold more than 300,000 copies and comparisons were drawn between her writing and that of Anne Frank.

The diaries have been translated into English and published translations in other languages (including Korean) are forthcoming.

Dang Thuy Tram's family said publishers' representatives from 14 countries have so far purchased the book's copyright.