As Tet approaches once more, flower shops in Ho Chi Minh City are full of buyers. Various kinds of flowers and bonsai have brought colour to the city on the threshold of the Year of the Horse.

This year, Ho Chi Minh City has more than 130 flower shops dotted in every corner of the city. This makes it convenient for city dwellers to purchase flowers.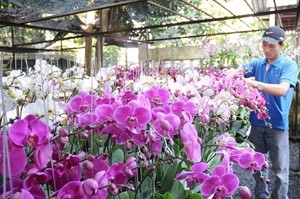 Orchids are prepared for Tet in Cu Chi district, HCM City (Photo: VNA)
In the flower market at September 23rd Park, besides traditional decorative plants such as apricot trees, peach blossom, orchids and daisies, a lot of varieties of plants with strange shapes at not too high prices are showcased.
Apricot symbolises Tet in the south. This year, small and medium apricot trees range from 300,000 - 1 million dong, not much higher than last year.
Peach blossom, available in the north during Tet, is transported from the north, as well as from the Central Highlands city of Da Lat at cheaper prices.
Due to the lingering economic recession, many customers just come to browse. Therefore, sales are far from sellers' expectations.
Choosing flower or bonsai pots to decorate houses is the Vietnamese traditional practice during Tet celebrations. Every street seems to be more colourful when flower markets erupt