Vu Luan of the Tran Huu Trang Theater, Hai Yen of the Dong Thap Province Ensemble and Hoang Nhat of the Ca Mau - Huong Tram Troupe have won "Best Cai luong Actor" awards in this year's Tran Huu Trang Prize.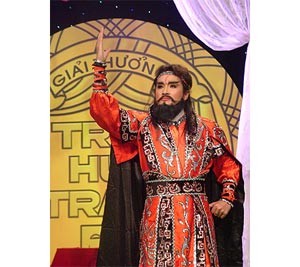 Actor Hoang Nhat portrays Tu Hai in the Cai luong standard "Who killed Thuy Kieu ?".

A 2,000-strong audience cheered the three stars of the traditional southern operatic form as they took to the stage to receive their awards at Can Tho University on Saturday.
Other awards went to the promising Cai luong exponents Hoang Quoc Thanh and Huynh Hai Long of the Ho Chi Minh City Cinema and Theatre College, Tran Hoang Khanh of the Tay Do Troupe, Tran Truc Ly of the Ca Mau - Huong Tram Troupe, Ho Ngoc Trinh of the Long An Province Ensemble and Ngoc Tuyen of the Dong Thap Province Ensemble.
The tenth edition of the annual competition was launched in the middle of the year and attracted hundreds of entries.
Several qualifying rounds whittled their number down to 52 contestants from Ho Chi Minh City, Tay Ninh, Dong Nai and the Mekong Delta provinces for the three final rounds in Can Tho.
"This year's contest has discovered several excellent voices to add to the honor roll of Cai luong," arts board chairwoman Bach Tuyet told the audience.
"It's the first time the finals have been held in Can Tho, the cradle of Cai luong, and the audiences have been most receptive and appreciative," the famous and much-honored artress said.

Related articles:
Cai Luong Veterans on Stage for Tran Huu Trang Prize
Can Tho Holds 10th Tran Huu Trang Cai Luong Prize
Tran Huu Trang Prize for Cai Luong Artists Resumes