On the first night of the International Fireworks Competition in Da Nang, the audience was impressed by the stunning performances of teams Italy and Russia and greatly surprised by the impressive progress made by team Da Nang.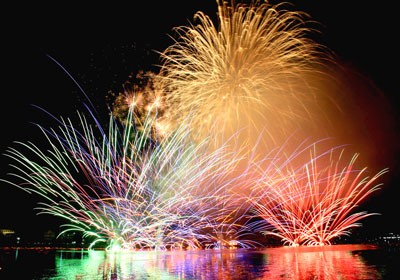 Team Da Nang held an impressive fireworks display on the Han River(Photo:Nguyen Khoi)
On the second night of the competition on April 30, the highly professional performances of teams United States and Japan created a buzz among thousands of delighted viewers. Team Japan retraced a picture of a Japanese garden on the South River, while team United States left a deep impression in the audience by colorful fireworks on the Han River. 
The Da Nang International Fireworks Competition is an annual event that draws thousands of tourists to spectacular fireworks displays of light and sound.
At the closing ceremony, the organizers awarded the first prize to team United States, two second prizes to teams Japan and Italy, and two third prizes to teams Russia and Da Nang.