Thirty works, including paintings, sculptures, and conceptual works, by Spanish artist Alberto Corazon are on show at the Vietnam Fine Arts Museum in Hanoi.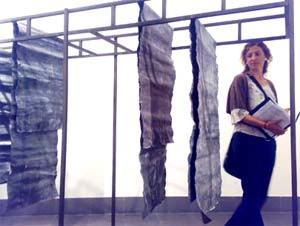 A sculpture titled "House" by Alberto Corazon on display at the exhibition at the Vietnam Fine Arts Museum in Hanoi. (Photo: Tuoi Tre)
The works on display reflect the experiences of the artist who works in the field of scholarly art. Corazon's still-life works are considered a perfect combination of colors and space. 
They represent a repertoire developed over more than 40 years. 
Corazon, considered one of the pioneers of Spanish conceptual art, was first as a graphic designer and later an industrial designer.  
The transfer of theoretical ideas and formal recourses between design and creation has been a constant feature of his production, characterized by self-reflection and the integration of interdisciplinary knowledge.  
Corazon, 67, the founder and president of the Spanish Association of Professional Designers, has had his works exhibited around France, Italy, Germany, the UK, Spain, and the U.S. 
The exhibition is organized by Valencia Modern Art Institute, the Spanish embassy in Hanoi, and Vietnam Fine Arts Museum, and will remain open until May 15.