An exhibition featuring contemporary art works by French artist Thierry Bernard-Gotteland is being held at Quynh Gallery in District 1 of Ho Chi Minh City.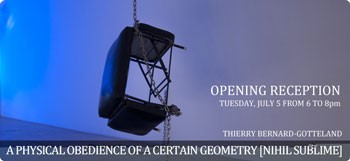 An art work by Thierry Bernard-Gotteland
The display includes stories of heavy metal music and its spiritual values as well as the connection of heavy metal with modern music.

Thierry Bernard-Gotteland was born in 1974 in Chambéry in France. He received his MFA from the School of Fine Arts in Grenoble and a Diploma from Le Fresnoy, National Studio of Contemporary Art in Tourcoing where he worked with acclaimed artist Antoni Muntadas.

Bernard-Gotteland has exhibited in North America, Europe and Asia. Recent exhibitions include To Ho Chi Minh City with Love: A Social Sculpture – a project by Phong Bui, the sound performance at The Cage gallery in Ho Chi Minh City.
The artist is also a lecturer at the design department at RMIT University in Ho Chi Minh City. He lives and works in Ho Chi Minh City.

The exhibition will run until July 30 at 65, De Tham Street.