British indie rock band Guillemots will perform at Hanoi Youth Theater on May 28.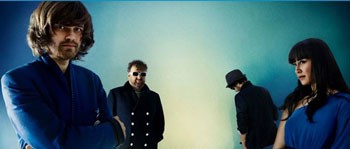 Rock band Guillemots
Based in the UK but with members originating from all over the globe, Guillemots first galloped into the music world in 2005 with joyful, colour-drenched singles.
Their debut album 'Through the Windowpane' in 2006, was nominated for Mercury Music Prize and vocal praise from many music luminaries including Sir Paul McCartney, and a Brit Nomination followed the next year for Best Live Act.
The show is part of Europe Days 2013 and activities celebrating the 40th anniversary of Vietnam and UK diplomatic relations and 20th anniversary of British Council presence in Vietnam.
Joined in the Guillemots as a main singer, Fyfe Dangerfield will play his songs and the band's works.
Fyfe Dangerfield is best known as the founding member and songwriter / front man of the Guillemots.
In 2010, Dangerfield released his own debut solo album, the gold-selling 'Fly Yellow Moon'. He is also increasingly working as a composer and arranger. He has written a number of pieces for both cellist Natalie Clein and the choir Ex Cathedra.
As an instrumentalist, Fyfe also plays with the jazz group, Gannets, and is a part-time guitarist for The Courtesy Group.
The band early performed at Ho Chi Minh City Conservatory of Music on May 26 and