Vietnamese rock music has its own history. In 1940s, there were bands, such as The Enterprise, The Soul, The Magic Stones, The Dreamers, The Music Makers… They followed the American style and their songs applauded free spirits and individual expression.  It was not common in Vietnamese audiovisual culture at that time. And they were the first to introduce the standard rock into Vietnamese music.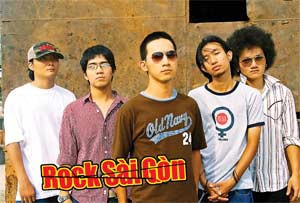 The Microwave band, photo: SGGP
After the liberation day (April 30, 1975), rockers of the previous generation got associated with the next generation's rockers.
At that moment, most rockers came from the common people and the new progressive class. Most of their songs were associated with life. When the storm of metal rock comes to Viet Nam, Saigon rockers are very confused. Then rock music is considered a game of moonstruck people. Saigon rockers have to look around the world to study the new kinds of music after years in isolation.
Preconception and believers
People usually think that rock music is very ear-splitting, and rockers have long hair and strange clothing. But it can attract many people and even fastidious or good-natured people.
There is a Rock Fan Club (RFC) at 123, Ly Chinh Thang Street, District 3. It is also a coffee shop. RFC publishes a monthly magazine, organizes periodic show, and creates the  websites
www.rockfanclub.org
and
www.rockfanclub.info
. The number of internet users browsing these sites reached over 4,000 in 2005.
Now there are more than ten bands in Ho Chi Minh City, such as The Atmosphere, The Unlimited, The Microwave, The Penalty, The Cancel…
Viet Dung, a fan of rock, says: "Rock reflects reality of life; I listen to rock to relax. Young rockers are not excessive. Do not let people think that rock is no longer a game of the eccentric".
Vietnamese rockers cannot earn a living by this career, the wage is not much for every show. They live on various jobs. They usually perform at The Youth Music Club, Ho Chi Minh City Youth Cultural House, Le Thanh Dance Hall, Spaceship Dance Hall, Maximark and Ho Chi Minh City University of Law.
Now, Vietnamese rock is changing into rock ballad, rock country for easily listening. RFC Chairman Quoc Bao, says : " Rock in Saigon is achieving new developments, with emphasis on healthy and useful aspects of society".