"The ceramic road along the Red River" in Hanoi has been officially recognized as the longest pottery mural in the world by the Guiness World Record, the journalist and painter Nguyen Thu Thuy who initiated the project said on Sunday.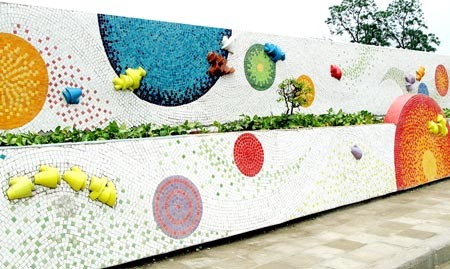 A section of "The ceramic road along the Red River"
The painting with a length of 3,950 meters and total area of 7,000 square meters is a work of art in celebration of the capital's 1,000th birthday.

Journalist Nguyen Thu Thuy launched the program at the end of 2007. The embankment's walls are now filled with traditional patterns and Hanoi landscapes.

The wall also features patterns popular during the Dong Son era and the Ly, Tran, Le and Nguyen dynasties.

Artists in the country and abroad have contributed to the project.

The giant ceramic mural incorporates decorative modern art, the traditional aesthetics of Vietnam's 54 ethnic groups, paintings of Hanoi by children, and ceramic paintings by local and international artists.

Representative of the Guiness World Record will arrive in Vietnam from October 2-5 to present a certificate for the giant ceramic mural.