Thousands of artists, veterans and people will join the art show titled "Thang Long – Hanoi- Ho Chi Minh Age" recalling the most important landmarks in the history of Hanoi at Hang Day Stadium on October 3.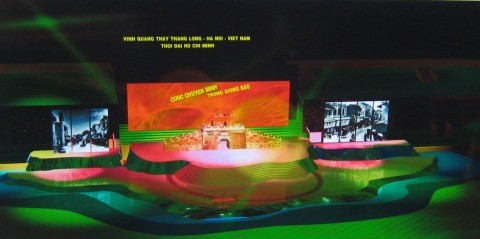 Stage of the art show "Thang Long - Hanoi- Ho Chi Minh Age"
The show is among three large-scale art programs marking the Grand Celebration of the 1,000th anniversary of the founding of Thang Long – Hanoi including the opening ceremony on October 1 and closing ceremony on 10.

"The opening and closing ceremonies tell about history and development of Thang Long and honors people who have outstanding contributions in the development of the capital and the Thang Long – Hanoi- Ho Chi Minh Age art show will focus on remarkable events during the resistance wars against French colonialists and American imperalists",  said script-writer Nguyen Khac Phuc, who has written the script for the celebration.

The 120-minute show directed by musician Duc Trinh will be divided into four parts including changes in the stormy period, the capital of the worker-peasant country, the heroic capital – heroic song of 1946 winter, and the city for peace and future desire.

Many important landmarks in the history of Hanoi will be revived such as French attack on Cua Bac (Northern Gate) citadel in 1882; Dong Kinh Nghia Thuc Movement which was a patriotic movement in the first years of the 20th contury; The reading of the Declaration of Independence by President Ho Chi Minh on September 2, 1945; and the Founding of the Democratic Republic of Vietnam in 1946 calling people throughout the country to participate in resistance war and others.
The show will be broadcast live on Vietnam Television's VTV1 channel and open free for all people.