Veteran photographers have won hearts of viewers and given them a deep impression with realistic pictures containing their own way of looking at the world and reflecting beauty of nature, moments and daily activities of the people.
The picture titled "Frog in Sapa" by Vo An Ninh

Many art works have lived forever in the hearts of people such as "Dien Bien Phu Victory" by Trieu Dai, "Entering Independence Palace" by Tran Mai Huong, "Attacking and occupying Dau Mau military base" by Doan Cong Tinh, "Phuc Tan calls people to revenge" by Vu Ba, "Artillerywoman" by Huynh Hieu, "Fog in the Sapa" by Vo An Ninh, "Hair stream" by Pham Van Mui, "Rain falls in lake" by Do Huan and more.
These pictures are the most important landmarks in the history of Vietnamese photography and show the art life of every photographer.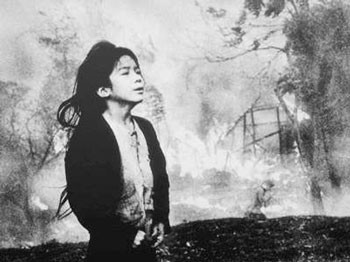 The photo titled "Phuc Tan calls people to revenge" by Vu Ba.
Insiders and viewers highly appreciate and respect contribution of artists who have much knowledge and life experience in various fields. To date most of them passed away, the remaining people are over 70 years old.
According to experts, the photos should be preserved, maintained and developed, and protected against interference of computer graphics technology. They are valuable traditional art heritage, a treasure to mankind, experts said.