The Ho Chi Minh Museum in Ha Noi received written documents, photos and paintings of President Ho Chi Minh from the private collections of Van Cao, Huy Thuc, Huy Du, Phong Nha, Dan Huyen, Thuan Yen, Van An and other musicians and artists.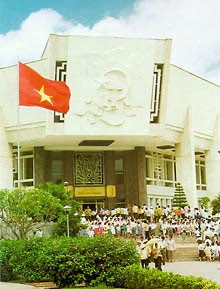 Ho Chi Minh Museum in Ha Noi
Among the highlights are a woodcut of Uncle Ho by Nguyen Anh Vien and a wood tablet with Viet Nam's declaration of independence carved in calligraphy by Trinh Van Tuan.
There is also a photograph of PresidentHo Chi Minh taken by Professor Nguyen Dinh Be when President Ho visited his family.
Ms. Chu Thi Nhuan has contributed a chair that Uncle Ho sat in when he visited her family for Tet on February 14, 1961.
Dr. Le Van Cuu, the president's personal physician in France in 1946, has contributed many valuable documents for the museum.
In the past 12 months, the museum has added more than 400 rare publications, documents, objects and photos of President Ho Chi Minh to its already extensive collection.